Posted by musovern on Apr 13th, 2018 in BBC Model B, Vintage Computers | 0 comments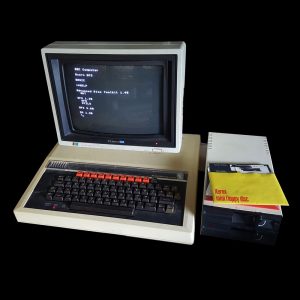 Acorn BBC model B. The Model B had the same features but had 32 KB RAM (expandable to 64K).
The 'beeb' as it quickly became known was fantastic for connecting to external equipment. It featured an anlogue 'joystick' port, a digital 'user' port, a 1Mhz bus connection, a 'tube' connection and a plethora of other connections. So many in fact the the back of the machine ran out of space and they had to create a cut-away bay underneath the machine to accommodate them. But it was due to its connectivity and expandability that I really took to the beeb and started designing peripherals and software.
NAME BBC Model A / B / B+
MANUFACTURER Acorn Computer
TYPE Home Computer
ORIGIN United Kingdom
YEAR 1981
END OF PRODUCTION Unknown
BUILT IN LANGUAGE BBC Basic
KEYBOARD Full-stroke QWERTY keyboard, 64 keys, 10 function keys, arrow keys
CPU MOS 6502
SPEED 1.8 MHz
RAM Model 1 : 16 kb
Model B : 32 kb
Model B+ : 64 kb
ROM 32 kb
TEXT MODES 80 x 32/25 (2 colors) / 40 x 32/25 (2 or 4 colors) / 20 x 32 (16 colors) / 40 x 25 (Teletext display)
GRAPHIC MODES 640 x 256 (2 colors) / 320 x 256 (4 colors) / 160 x 256 (16 colors)
COLORS 16 (8 colors + flashing option)
SOUND 3 channels + 1 noise channel, 7 octaves
SIZE / WEIGHT 41 (W) x 34.5 (D) x 6.5 (H) cm / 3700 g
I/O PORTS UHF TV out, BNC video out, RGB vide out, RS423, Cassette, Analogue In (DB15), Econet port, TUBE interface, 1Mhz BUS, User port, Printer port, Disk-drive connector
POWER SUPPLY Built-in switching PSU
PERIPHERALS Controler card for 1 to 4 5"1/4 F.D. drives (1 400 F.F)
Floppy disk unit 5"1/4 250 Ko. (3 900 F.F.)
Numerical cassette recorder 100 Ko. (3 000 F.F.)
Second 6502 microprocessor with card (3
PRICE £399 (UK 1983) – 1181 (France, February 1984)
This is my unit