Posted by musovern on Apr 13th, 2018 in Sharp, Vintage Computers | 0 comments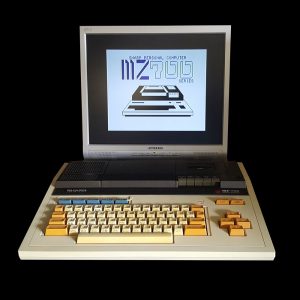 The MZ-700 was launched in Japan in October 1982. lt was the first Sharp home Computer with colour, but it came without a built-in display unit; instead, sockets were provided for a colour TV or an RGB Monitor; or a B/W TV set or a Mono Monitor. lt also had a built-in printer I/F with a switch which allowed you to run the MZ-1P01 4-pen plotter-printer or a more standard MZ-80P5( K ) dot-matrix printer.
Thus, with its clock speed of 3.5MHz, the MZ-700 seemed to meet many of the criticisms levelled at the MZ-80A when it was launched in June 1982. But it was still only a halfway-house – the printer I/F only suited Sharp printers, the screen was only 40 columns, and to run disk drives you needed an extra interface of some kind.
Read More...