Posted by musovern on Apr 6th, 2018 in Panasonic, Vintage Computers | 0 comments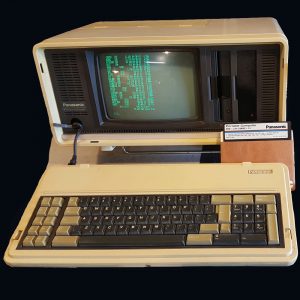 Panasonic Model RL-H7000W
This is a luggable IBM-PC compatible system. It tends to offer an all-in-one solution for the perfect 80's business man. Back in 1983 it was the first Japanese computer completely IBM-PC compatible (hardware & software).
It has a built-in thermal printer (80/132 columns, 8.5" wide) using paper-rolls. This was quite useful where you were on the move, but the weight of the whole system is also quite impressive. It is maybe transportable but surely not portable !
It was also possible to connect a more sophisticated printer through the Parallel port.
There is a 9" CRT green display built-in along with a brightness control.
Read More...