Posted by musovern on Jan 29th, 2019 in MinMax 8085 | 1 comment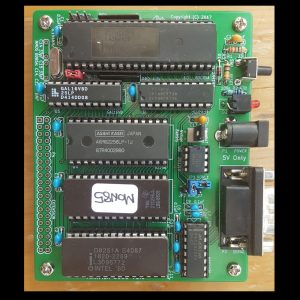 The MiniMax8085 project has been brewing for almost three years. Sometime in the spring of 2014 my kids and I visited local the surplus store, where my kids found some Intel 8000 series parts in the kids-fill-your-bucket area. Among these ICs were there: an 8085 CPU, an 8155 RAM with I/O ports and timer, a couple of 8255 PPIs, an 8282 latch, and some 27C128 UV EPROMs. It looked like a good start for an 8085 based computer that can be used to teach my kids some computer design and programming basics.
I wanted the project to be simple to build, with a minimal number of components, but yet to be a fully functional single board computer (e.g. to include the memory and an input/output device, for example a UART) with an extension bus. I checked the Internet for existing homebrew 8085 computers and found Roman Fülek's NCB85 and NCB85v2 projects, and Glitch Works 8085 projects. While I liked these projects, they didn't quite meet my project design goals:
Read More...