Posted by musovern on Apr 13th, 2018 in Sharp, Vintage Computers | 0 comments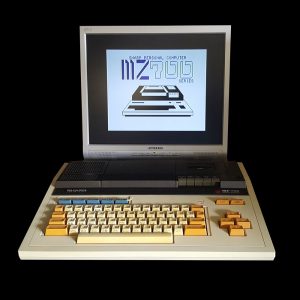 The MZ-700 was launched in Japan in October 1982.  lt was the first Sharp home Computer with colour, but it came without a built-in display unit; instead, sockets were provided for a colour TV or an RGB Monitor; or a B/W TV set or a Mono Monitor. lt also had a built-in printer I/F with a switch which allowed you to run the MZ-1P01 4-pen plotter-printer or a more standard MZ-80P5( K ) dot-matrix printer.
Thus, with its clock speed of 3.5MHz, the MZ-700 seemed to meet many of the criticisms levelled at the MZ-80A when it was launched in June 1982. But it was still only a halfway-house – the printer I/F only suited Sharp printers, the screen was only 40 columns, and to run disk drives you needed an extra interface of some kind.
The MZ-700 was reviewed in the PCW Magazine in February 1984. By then most of the competing machines had high-res graphics, and the reviewer was hard on the MZ-700 over that. But he was impressed by the alternative languages available, and concluded that the MZ-700 was 'worthy of serious consideration.
NAME MZ 700
MANUFACTURER Sharp
TYPE Home Computer
ORIGIN Japan
YEAR 1983
BUILT IN LANGUAGE None – Monitor in ROM
KEYBOARD Full stroke 69 key with 5 function keys and 4 cursor keys
CPU Sharp LH-0080 (Zilog Z80 A compatible)
SPEED 4 MHz
RAM 64 KB
VRAM 2 KB
ROM 2 KB
TEXT MODES 40 x 25
GRAPHIC MODES 50 x 80
COLORS 8
SOUND one channel, 3 octaves
SIZE / WEIGHT 44 (W) x 30.5 (D) x 8.5 (H)
I/O PORTS Parallel, Joystick (2), Z80 Bus, Tape, RGB
BUILT IN MEDIA Tape recorder
OS optional CP/M with FDD
POWER SUPPLY Built-in power supply unit (5V)
PRICE About 533 (1983) for the MZ 721
£250 (MZ-711)
£420 (MZ-731)
My Unit.
Fixed power supply
Cleaned tape and heads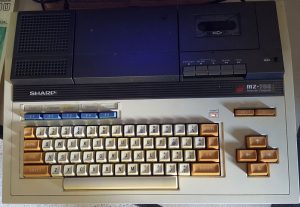 Loading Basic off Cassette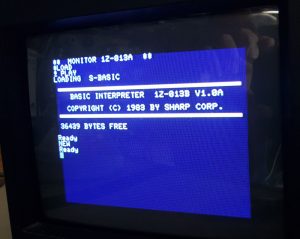 It came with Basic on cassette and in the box.