Posted by musovern on Jun 27th, 2018 in SGS NBZ80 Nanocomputer, Vintage Computers | 0 comments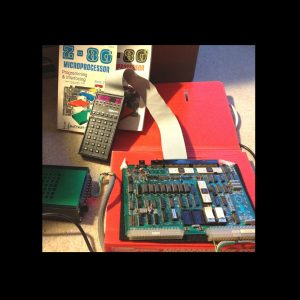 SGS NBZ80 Nanocomputer
This unit is the NBZ80-B: Nanocomputer base board with 2K ROM, Input Hex keypad device and power supply. Doc and Nanobook 1. Basically, the S without the experiment card NEZ-80.
Its manufacturer, SGS (Societa Generale Semiconduttore) is from Olivetti and Telettra, created in 1950. In 1960, the inevitable American founder Fairchild created in partnership with the Italian state SGS-Fairchild.
In 1971, SGS and Ates were merged by decree of the Italian Government, following the withdrawal of Fairchild in 1968 and the poor health of SGS.
After an agreement with Zilog in 1979 to create a second source for the Z80 and Z8000, it was finally the Mostek smelter that was bought in 1981.
In 1987, Thomson bought SGS to create SGS-Thomson Microelectronics.
The Nanocomputer Training System was designed, using members of this family, for education and training on the Z80 microprocessor.
The Z80 family of LSI components consists of :
Z80 CPU – Central processing Unit
Z80 PIO – Peripheral Input/Output
Z80 CTC – Counter Timer Circuit
Z80 SIO – Serial Input/Output
Z80 DMA – Direct Memory Access
The system covers:
programming in Z80 assembler language
digital electronics for microcomputers
interfacing between CPU, memories, PIO and CTC
A full set of documentation in three volumes, covering all subjects, is provided with the system to meet the needs of student and educator.
Manufacturer: SGS-ATES (Italy)
Model: NBZ80-S
Year / Price: 1980/825 000 Lire
CPU: Z80 to 2.4756 MHz
RAM / ROM: 4 KB expandable to 16 KB / 2 KB expandable to 8 KB (Assembler and basic monitor optional)
Graphics: 8 red digits with 7 segments and 14 red LEDs
Mass Storage: External cassette port , bus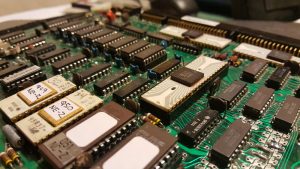 SGS-Ates Z80A CPU
4 MHz
40-pin side-brazed ceramic DIP
White ceramic with gray traces/black top/gold pins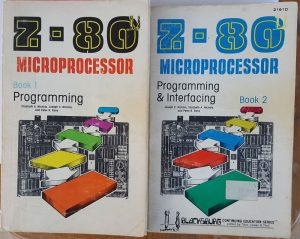 The Z80 Books for the Nano computer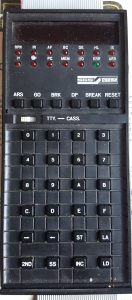 My main unit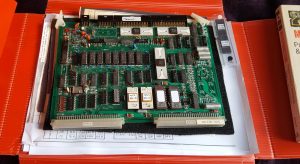 And spare board