Posted by musovern on Apr 4th, 2018 in Commodore, Vintage Computers | 0 comments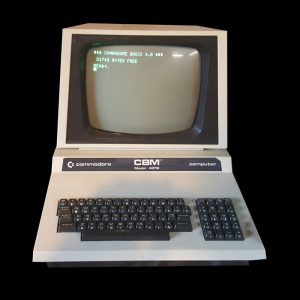 The PET 4016 was released three years after the original PET 2001. Although it has the same CPU running at the same speed, improved circuitry allows the 4016 to run substantially faster. Other improvements include more memory and a better keyboard. 4016 refers to 40 character display, with 16K RAM memory.
The 4016 has four ports to the outside world. An eight-bit parallel port, a port for a cassette recorder, a port that brings out the system bus, and an IEEE-488 port. Still in use today, the IEEE-488 bus is relatively complex, allowing up to 15 devices on the bus, but is mostly used for laboratory and scientific instruments.
The Commodore PET 4000 series features Basic 4.0 as a standard feature, along with more memory and a lower price that made them attractive to schools. Elementary, Middle, and High Schools all over the USA and
Canada were filled with these impressive lumbering beasts. Introducing children everywhere to the wonders of BASIC programming. Another lesson taught was the importance of patience, since many schools provided only a tape datasette for loading and saving work. Like the other models of PET, the 4000 series includes dual datasette ports, though only one is exposed to the outside of the casing. A standard IEEE-488 interface in the back allows the PET to connect to the numerous (and heavy) disk drives and printers being produced by Commodore and other manufacturers. The PET also has a fully programmable bi-directional parallel interface called the "User" port, which allows the PET to connect and control almost any device one could dream up! The greatest feature, however, is the friendly READY prompt, and the well-laid out keyboard with graphic Interestingly, although Commodore provided 8, 16, and 32k versions of their PET 2001 and 3001 series, they had a hard time getting people to purchase higher memory versions as an upgrade. It seemed that people were soldering in their own memory chips onto PET 2001 and 3001 8k and 16k models to upgrade them to 32k.
To prevent this, Commodore sold many PET 4008 and PET 4016 models with the empty memory sockets punched out and destroyed! This encouraged those who wanted more memory to upgrade to the 4032 instead of doing it themselves.
MANUFACTURER: Commodore
YEAR INTRODUCED: 1980
COST $1,295
PROCESSOR MOS 6502
SPEED 1 MHz
TRANSISTORS 9,000
RAM 16 KB
ROM 20 KB
I/O PORTS IEEE 488
Tape Recorder
SSYSTEM BUS 8-bit
OS ROM BASIC
Mine came in a very nice wood box which keep it in great condition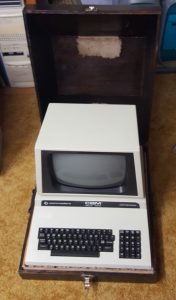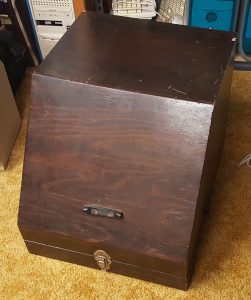 PCB was not going when I first got it .
Repair power supply
Replaced some of the RAM chips and upgraded to 32k
Burned a new TMS2532a Character ROM and TMS2516 ROM
Added the  PET SD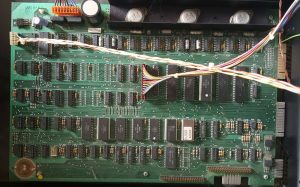 Here you can see the
Commodore PET ROM / RAM replacement board that I brought from "tynemouthsoftware"
This is a  board which plugs into the 6502 CPU socket on something like a Commodore PET and can selectively replace the onboard ROM or RAM.
This was a great tools for finding out what RAM and ROM's needed to be replace.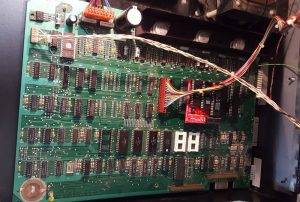 The Pet SD in acton