Posted by musovern on Apr 16th, 2018 in Macintosh, Vintage Computers | 0 comments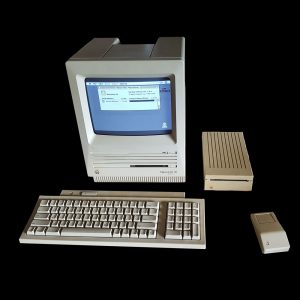 The Macintosh SE was a personal computer manufactured by Apple. This computer marked a significant improvement on the Macintosh Plus design and was introduced by Apple at the same time as the Macintosh II. It had a similar case to the original Macintosh computer, but with slight differences in colour and styling.
The SE's notable new features, compared to its similar predecessor the Macintosh Plus, were:
* First compact Macintosh with space for an internal hard disk (originally 20 MB or 40 MB), or, if the user preferred, dual floppy drives.
* First compact Macintosh that featured an expansion slot (SE stood for "System Expansion").
* Used the Apple Desktop Bus (ADB), introduced with the Apple IIGS, for keyboard and mouse interface.
* Improved SCSI support with faster data throughput.
* Better reliability.
* Longer life expectancy.[citation needed]
The SE was designed to accommodate either two floppy drives or a floppy drive and a hard drive, although an after-market bracket was designed to allow the SE to accommodate two floppy drives as well as a hard drive. After Apple introduced the Macintosh SE/30 in January 1989, an SE/30 motherboard was marketed as a high-cost upgrade for the SE.
Additionally the SE had a special PDS slot that allowed for expansion cards, such as accelerators, to be installed. Later on the SE/30 continued by having one slot. Still today accelerators can be purchased and installed in this machine. The SE can be upgraded to 50 MHz and more than 5 MB with the MicroMac accelerators, which are still sold. In the past other accelerators were also available such as the Sonnet Allegro.
Apple produced ten SEs with transparent cases as prototypes for promotional shots and employees. They are extremely rare and command a premium price for collectors.