Posted by musovern on Sep 13th, 2018 in Kaypro II, Vintage Computers | 0 comments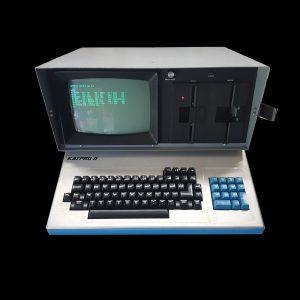 The Kaypro II was the first computer released by Non-Linear Systems, in 1982. Non-Linear Systems was founded by Andy Kay in 1952. But they didn't make computers back then, they made digital multimeters. You see, Andy Kay is the inventor of the digital multimeter
The Kaypro II is unusual because the entire case is made out of metal. Kaypro's computers were an extension of their test instrument design philosophy: rugged, reliable, reasonably priced, looking more like instruments than the creative, communications (and business) tools that they heavy.
NAME Kaypro II
MANUFACTURER Kaypro
TYPE Transportable
ORIGIN U.S.A.
YEAR august 1982
BUILT IN LANGUAGE None (M-BASIC and S-BASIC on diskette)
KEYBOARD Full-stroke 70 key typewriter style keyboard with 18 programmable keys
CPU Z80
SPEED 2.5 Mhz
RAM 64 KB
VRAM 2 KB
ROM 2 KB
TEXT MODES 80 chars x 25 lines (character matrix : 5 x 8)
GRAPHIC MODES None
COLORS built-in 9" non-glare green phosphor screen
SOUND Beep only
SIZE / WEIGHT 45 x 36 x 21 cm / 13 Kg
I/O PORTS RS232c serial port, "Centronics" type parallel port, keyboard interface, modem in/out (depending models)
BUILT IN MEDIA two 5.25" SS/DD full-height floppies (190k)
OS CP/M 2.2
POWER SUPPLY Built-in power supply unit
PERIPHERALS 400 KB or 800 KB 5.25" floppy drives, 10 MB hard disc, battery pack/charger
PRICE $1795 (USA, 1982) – £1259 (U.K., 1983)
The Kaypro II didn't need to much work to get it going.
Added a Z80 SIO chip, clean the heads on the floppy disks and it now boots into CPM.
Very happy with this machine.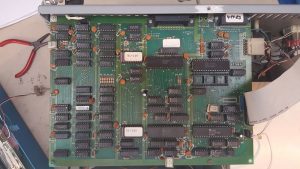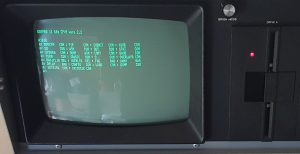 The Keyboard needs to be serviced.
I need to get a RJ-11 connector and fit.
Also  pads need to be re- done on the keys them self, have ordered the pads.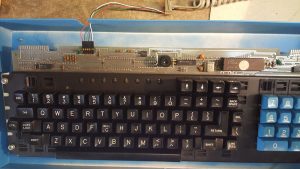 — UPDATE 2019 —
Keyboard restored
Have now replaced the broken RJ11 Connector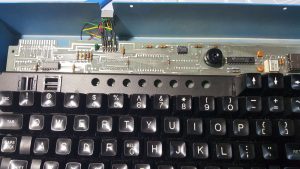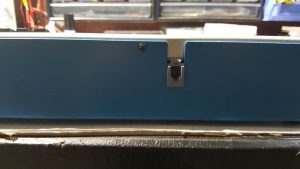 Replacing the felt pads on the keyboard and keyboard is fully working once again.