Posted by musovern on Mar 8th, 2018 in Apple, Vintage Computers | 0 comments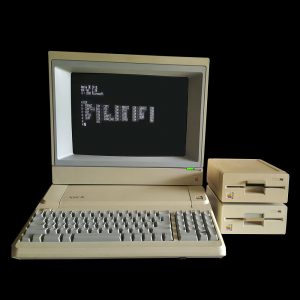 This was the last version of the Apple II series that was first released in April 1977 and finally discontinued in mid 1993, making it the only home computer in production for more than 15 years.
The major difference from the previous Apple IIe version is that the keyboard had been redesigned to be functionally equivalent to the keyboard of the Apple IIGS. The new keyboard incorporated an 18-key numeric keypad including two programmable function keys and cursor control keys.
The Platinum also had a new light grey-coloured case, a new motherboard design with a reduced chip count, and included a revised owner's manual, a guide to AppleSoft BASIC and two double-sided training disks.
Finally, the IIe was shipped with the Apple 64 KB / 80-column upgrade card already installed.
NAME: APPLE IIe Platinum
MANUFACTURER: Apple
TYPE: Professional Computer
ORIGIN: U.S.A.
YEAR: January 1987
END OF PRODUCTION: 1993
BUILT IN LANGUAGE: Integer BASIC
KEYBOARD: 81 keys with numeric keypad including two programmable function keys and arrow keys
CPU: 65C02
SPEED: 1 MHz
CO-PROCESSOR: MMU and IOU custom chips
RAM: 128 KB
ROM: 32 KB
TEXT MODES: 40 or 80 columns x 24 lines
GRAPHIC MODES: 40 x 40-48 (16 col), 280 x 160-192 (6 col), 560 x 160-192 (2 col)
COLOURS: 16 maximum
SOUND: Built-in speaker – 1 channel
SIZE / WEIGHT: 39.4 (W) x 45.7 (D) x 11.4 (H) cm.
I/O PORTS: Composite video, Tape in/out, Joystick, 6 expansion slots
BUILT IN MEDIA: None
OS: DOS 3.3, ProDOS or CP/M with the optional Z80 card
POWER SUPPLY: Built-in switching power supply unit
PERIPHERALS: All Apple and compatible expansion cards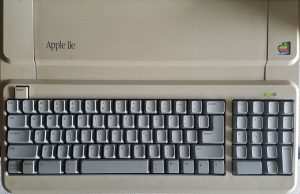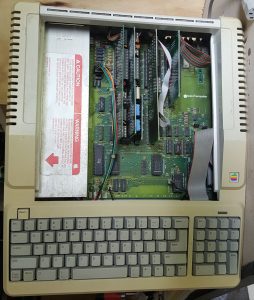 Inside Platinum IIe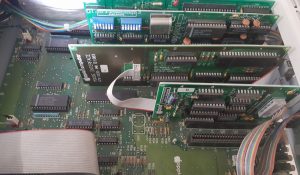 Currently running Z80 CP/M card, super serial mouse card.