Posted by musovern on May 7th, 2018 in N8VEM, Single Board Computers | 0 comments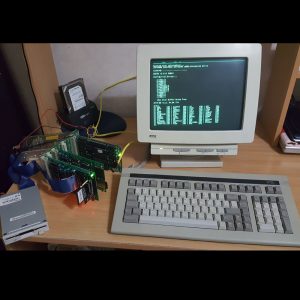 In 2006, Andrew Lynch published his Single-Board CP/M design with the intention to involve others in a collective homebrewing project. The N8VEM (named after his ham radio license) is expandable with add-on cards and soon, an informal collaborative effort emerged around a Google mail group. A web site was set up to share the hard- and software that began to be produced. Builders with a wide range of skills got involved – from well-known systems designers to absolute beginners that bought Andrew's $20 circuit board to explore CP/M.​
The N8VEM board contains the minimal components needed to run a CP/M system: 512K static RAM memory, which also provides a RAM disk for storage; 1024K of ROM, containing the operating system and a large ROM disk ; a 16550 serial interface IC; and a 8255 parallel interface. The RAM can be battery powered to convert it into non-volatile storage using a DS 1210 power controller and the battery can also drive a DS 1302 real-time clock.
Z80 Cpu Board
4Mhz Zilog Z80 CPU
Up to 512Kb paged SRAM (: Add link to the paging description)
Up to 1Mb EPROM or FLASH ROM.
Serial Interface (16550 Uart)
Parallel interface (8255), can be extended to support IDE interface via small board
Real Time Clock (DS1302)
Battery backup for RTC and SRAM.
Standard ECB bus interface
Standard PC drive connector power supply interface using +5V only
Reset button with external connector
Status LED
The Mk 1 Z80 Cpu board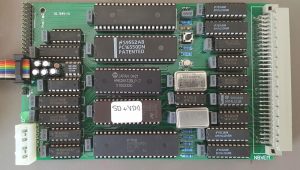 The VDU provides monitor and keyboard to the N8VEM, for those who want to run without a serial terminal. It emerged as a prototype in mid 2009. The Rev. 1 board came out later in the year, followed by a slightly modified but functionally identical Rev. 2 in June 2010. The is the Rev 1 PCB.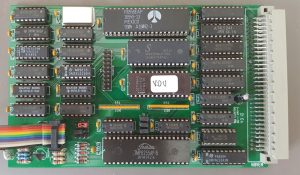 ECB Disk I/O V3 is a board that provides floppy and IDE interfaces.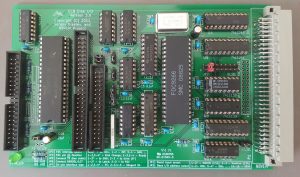 The Dual SD Card board contains two Secure Digital card sockets and interfaces to the ECB bus, meaning it adds SD card storage to several ECB computer systems: SBC v1 & v2, SBC-188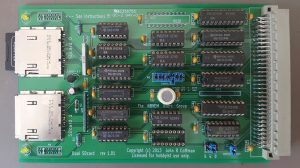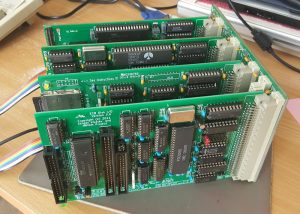 The SBC V2 is a Zilog Z80 processor board. Is capable of functioning both as a standalone SBC or as attached to the ECB bus.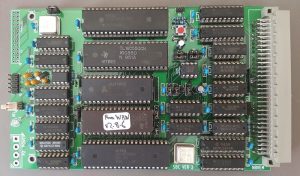 Running CP/M 2.2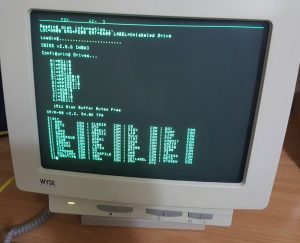 The DSKY provides a simple low-level interface to the hardware on the RBC Z80 SBC. The user can inspect/modify ports, inspect/modify memory, execute programs, or boot the system from various ROM images or various other devices.
My hand built version