Posted by musovern on May 19th, 2019 in Cosmac-Elf, Single Board Computers | 1 comment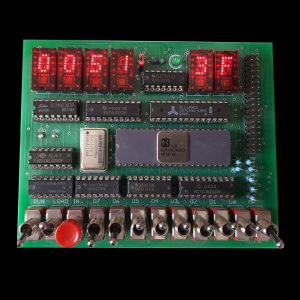 This is based on the Micro-Elf project presented in Popular Electronics 1976. Mike Riley from elf-emulation.com has designed a PCB to make for easier construction than the wire-wrap method used in my Cosmac Elf.
Features:
32k Ram
2mhz clock
Compact design, board is only 5″ x 3.75″
Full 4 digit address display (optional)
Expansion connector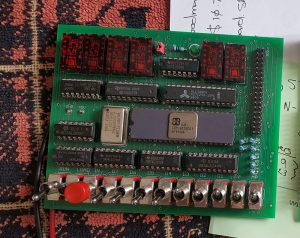 There are other boards that he has made available.
32KRam,IDE/CF,Serial Expansion
This expansion card provides a socket (.6″) decoded for the top 32k of ram. This socket is jumper selectable for NVRAM, SRAM, or EPROM. This expansion also includes a Q/EF? serial port, the EF line used by the serial port is jumper selectable. An IDE/CF interface is also included on this expansion. The ports used by the IDE interface are hard set at 2 and 3. An expanded version of the Micro/Elf expansion bus is also provided.
Hex Keypad
This expansion plugs into the 74ls244 socket of the Micro/Elf board and provides a 16 key hexadecimal keypad. Make program entry easier with this option!
Pixie Graphics/PS2 Keyboard Interface
This expansion adds Pixie Graphics (cdp1861) to the Micro/Elf as well as a PS2 style keyboard interface. The ports/EF lines used by the Pixie chip and the PS2 keyboard interface are jumper selectable.
The hex keypad for the Micro/Elf. The keypad is used by removing the 74LS244 on the Micro/Elf board and plugging the keypad cable into the 74244 socket. Too make programming quicker. (still waiting for parts to test this )